Breaking up is so very hard to do, especially when it's me, you and the love of my recent life, Greenmystyle.com. We've been very quiet of late, and although it breaks my heart to say it, I think the time has come to say goodbye. For now.
Those of you out there, toiling away at the coalface of ethical style, designing, producing, selling it and buying it, we salute you and support you. If we can see a way back to you, we'll be there. And if you disagree wildly with our decision to take a break, do let me know either in the comments section here or via email at sarah@greenmystyle.com. That includes any generous benefactors who would care to dig into their pockets to keep us going. 
Thanks go to Greenmystyle.com's contributors, especially Jen Marsden, Clare Saxon, Maria Kaski and Yanar Alkayat, who believed in the cause and donated extraordinary amounts of time and hard work to produce great content, right from the start of this project. I can't praise them highly enough.
In the meantime, Delightful Media, publisher of Greenmystyle.com, has joined forces with another media agency, led by Katie Lee, to form one new agency, Jones & Jones Media. We will be focusing on QueensOfVintage.com, and its incredible vintage social network, and Katie's site DorkAdore, a magazine site for geek chic.    
I'd prefer to imagine that we, Greenmystyle.com and you are simply having some time apart. I'd love to think that when the time is right, we'll reignite the spark between us, and continue our mission to help women with a heart to shop wisely and stylishly.
My final note is to say thank you to you, our readers. It's your desire for ethical style that kept us going, and provides the incentive for stores, designers and beauty companies to keep investing in it. Thank you.
[Image: Doucette Duvall. Two years on and still my favourite.]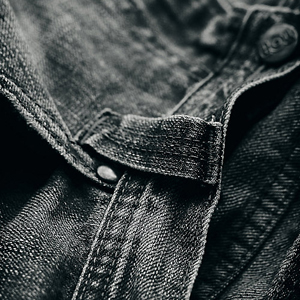 Fashion designers aren't the only ones eyeing up your jeans as hot property for upcycling. Car designers are too. Now, your favourite denims could end up in a state-of-the art electric car. Jimmy Edwards made a trip to Detroit to find out more.
Sam Cam may have been enlisted to advise the British Fashion Council for the next London Fashion Week but in light of her 'maternity leave' during this season's LFW, Miriam González Durántez managed to steal the spotlight with her own fashionable cause. Eleni Sardi reports from Ecoluxe.
The British Fashion Council press office has just sent me this news release below, announcing London Fashion Week's first ever on-schedule sustainable fashion catwalk. It's great to see such a powerful institution taking sustainable fashion so seriously. With heavyweights from mainstream fashion involved, sustainable fashion will start to get the broader profile it deserves and the range of ethically made fashion, footwear and accessories available will keep growing. Read more
Cornish eco label EKO Sense is giving away ten sets of bamboo towels to readers of Greenmystyle.com and slow life magazine jorgandolif.com. All you have to do to enter is tell us what you like to do to relax. Read more
The utterly beautiful Florence Welch of Florence + The Machine is inviting fans to design an outfit for her concert appearance at New York's Terminal 5 in November. So, come on ethical fashion fans, designers and makers, puhlease get working on it NOW! What better way to spread the word about ethical fashion than dressing the hottest style icon on the music scene right now? Read more
I remember punched suede ankle boots from the Eighties. It was a New Romantic thing, I think, and I even tried to wear a pair to school. Spandau-esque footwear with a Monkhouse's regulation brown school uniform is not a good look, even with my skirt rolled up to an inch below my knicker-line. Better luck this time around with these fair trade beauties from Where. Read more
London College of Fashion's enterprising program for ethical designers The Centre for Sustainable Fashion occupied a central space at estethica this year with two of its participating designers exhibiting some of their pieces. Mandy Barder finds out what drives them and the affect the innovative program has had on them. Read more
With the end of the Jergens® Naturals® Skin & Bare It mini-series on Greenmystyle.com's Greenonthescreen, we want to remind you of the show's wonderful homemade beauty recipes.
The mini-series offered interesting facts and insights as it investigated the state of the British public's skin. Channel 4 presenter Anna Richardson (of Supersize Vs Superskinny and My Big Fat Diet Show fame) did a great job along with her skin experts in showing the best – and the worst – skin routines a girl can have.
All five programmes are available on YouTube here.
To re-cap on the recommended DIY recipes.
For an avocado moisturiser click here
For a skin cleansing treatment with green tea click here
For a chocalicious treatment click here
Remember, you are what you put on your skin, so the more quality the ingredients, the more luxuriant the body pack shall be. Here at Greenmystyle.com we recommend organic where possible.
These recipes were especially made by America's best-selling bodycare range Jergens® Naturals® Skincare, loved by customers across the globe for over a century. Try its range of highly effective natural moisturisers, formulated from the finest plant-derived extracts, delivering effective body moisturisers for women of all ages, and for a variety of skin types. They're 95% natural, highly effective and paraben free for beautiful skin.
Click here to find out more about Jergens® Naturals® or join them on Facebook
It's the perfect time of year to travel throughout the UK and enjoy the colours and the aromas in the countryside. You might also have enjoyed the eye candy of this year's Chelsea Flower Show. But there's more to flowers than meets the eye and nose: for centuries, the British landscape has provided the secrets to our health and beauty success. Jen Marsden writes.